WISDOM TEETH REMOVAL IN GRAPEVINE TEXAS
If you or someone you know is currently experiencing any discomfort around their wisdom teeth, visit The Grapevine Dentist for a prompt consultation and plan of action. Our in-house Board Certified Periodontist, Dr. Daniel Choi, DDS has years of experience in third molar extractions, IV sedation and has developed a fond reputation for extraordinary patient care, outcomes, and overall satisfaction.
The removal of wisdom teeth has become so common that it is almost a right of passage for young adults. Wisdom Teeth, also known as "third molars" are submerged teeth that reside under the gums in the rear of your upper and lower posterior arches. Wisdom teeth usually develop during early adulthood in most individuals, however, it is not uncommon for some people to never get wisdom teeth.
Do I Have Wisdom Teeth?
You can try a simple self-examination to find out. By looking into a mirror, focus on the rear of your mouth where your molars reside to see if a "third" molar exists. If nothing is noticeable, it is likely that your third molars have yet to breach the surface, which will require a visit to your dentist for conclusive answers using imaging technology.
Do My Wisdom Teeth Need To Be Extracted?
Each person is unique and therefore is the decision to extract their wisdom teeth. Overall it is recommended that taking a proactive approach in removing third molars early on can alleviate major dental complications later in life.
In some cases Wisdom Teeth break the gum surface cleanly, leaving the adjacent tooth/teeth unhindered. If you are fortunate enough to have this scenario, it is extremely important that you properly maintain great oral hygiene around the third molar/molars and its neighboring teeth to avoid any potential issues.
On the opposite end of the spectrum, many individuals end up experiencing the negative impact of surfacing third molars. These effects are usually felt when your wisdom tooth/teeth become impacted by a lack of adequate growing room. Impacted Wisdom Teeth sometimes partially break the surface and even breach in an unfavorable direction, adding pressure to the adjacent tooth/teeth. Third molars that surface at peculiar angles create a situation where it's difficult to clean both your wisdom molar and its neighbor. This uncomfortable scenario not only makes your wisdom teeth vulnerable to rapid tooth decay and recession, but neighboring teeth also become subjected to periodontal disease if not treated properly and in a timely manner.  
Why Preventative Treatment?
It's difficult to predict problems with impact wisdom teeth

Symptom-free third molars could still harbor disease

More vulnerable to cavities and gum disease

Older adults may experience difficulty with surgery and complications after surgery.

You run a lower risk for future dental complications
Some Signs You May Have Impacted Wisdom Teeth

 
Pain / Pressure in molars while eating

Cheek and gum discomfort in the area

Gum inflammation behind your last visible molar

Foul/bad taste or smell in the area

Rubbing or grinding against the cheek

Jaw stiffness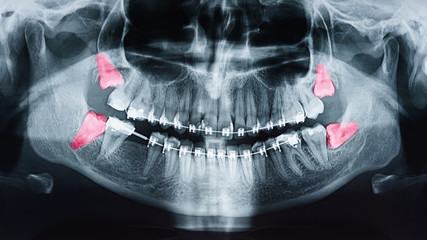 [vc_testimonial style="theme6″ rating="5_stars" namesize="18″ nameclr="#000000″ profclr="#000000″ name="Google Review"]"I got my
wisdom teeth
removed at grapevine dentistry all I have to say is the entire staff is very personable and takes their client's care seriously. You will not only receive quality dentistry you will quickly discover that you are in the hands of warm caring professionals and that your dental health is their primary concern. The technology used is leading edge and everyone is involved in expanding their education… "[/vc_testimonial][vc_testimonial style="theme6″ rating="5_stars" namesize="18″ nameclr="#000000″ profclr="#000000″ name="Google Review"]"I can't recommend them enough! I have lots of dental problems, so I've been to all kinds of dentists for a long, long time — this office isn't just the best dental office I've ever been to, it's the best overall medical clinic of any kind. I explained on my first visit that my
wisdom teeth
were very painful and I had a lot of anxiety about getting them removed, and they really listened — they agreed without arguing that I would be more comfortable with total anesthesia. They were on hand during my entire recovery, worked me in when I became concerned later and were incredibly gracious the whole time. Never once did I feel like the staff didn't want to listen to me, or were annoyed when I had questions."[/vc_testimonial][vc_testimonial style="theme6″ rating="5_stars" namesize="18″ nameclr="#000000″ profclr="#000000″ name="Google Review"]"My first experience was great. The staff was friendly and very helpful. I was a walk-in and was treated like I was already a long time patient?"[/vc_testimonial]
Wisdom Teeth Complications