Dental Veneer in Grapevine Texas
Tooth veneers are thin, custom-made "shells" crafted of tooth-colored materials (such as porcelain) designed to cover the front side of your teeth. To prepare for porcelain veneers, the doctor will prepare your teeth to make enough room for the porcelain material to fit. An impression will be taken and sent to a dental lab to create your porcelain veneers. Temporary veneers will be placed while the dental lab creates the permanent porcelain veneers. X-rays will be taken to confirm the fit of the veneers to the teeth. The veneers will then be cleaned and treated to ensure the best adhesion to the tooth. Your bite will be checked, and a final x-ray is typically taken to ensure no extra cement was left below the gums. When placed, you will be pleased to see an attractive smile that looks and feels like you have always wanted. A night guard is recommended as the last step, which involves impressions of your top and bottom teeth, to protect your investment and smile.
Dental Veneers Cost?
Dental Veneers are the most sought-after cosmetic procedure, making it the most expensive cosmetic procedure in dentistry. Veneers range in cost from $925-$2,500 per tooth, in our office dental veneers range from $800-$1,300 per tooth.
Does dental insurance cover veneers?
Most dental insurance companies consider dental veneers a cosmetic want vs a dental need, therefore in most cases, they will not cover veneers and it becomes a 100% out of the pocket expense. However, since The Grapevine Dentist is in-network with most dental insurances it allows for a discount. There is currently no dental insurance that covers veneers, but we do offer third-party financing through Care Credit and Lending Club. Keep in mind fees can fluctuate according to the material the veneer is made of and as well as the laboratory that is customizing your veneer.
Dental Bonding vs Veneer
Porcelain veneers are seen as a long-term, permanent option over dental bonding. Dental bonding can cover cracks, stains, and teeth better. Veneers are also an irreversible procedure requiring the removal of enamel. Whereas dental bonding generally adds over existing enamel and the more conservative option if only slight changes are required for a cosmetic result. Veneers require two visits while bonding can be done in one visit using a tooth-colored filling. Bonding is more porous, it is also more susceptible to stain and chipping over several years. The doctor will be able to discuss which procedure would work best for you.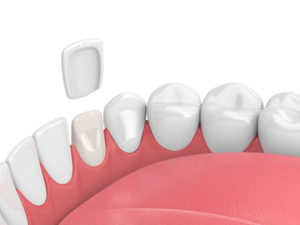 Dental Crown vs Veneer
Dental veneers and dental crowns are remarkably similar. The main difference is a veneer does not wrap all the way around the back of the tooth. Because a crown does cover the back of the tooth, it requires removing more enamel than a veneer but is usually more retentive long term due to the increased surface area. Considerations when deciding between the two include the amount of space available between top and bottom teeth, the amount of filling or decay to be replaced, and the amount of retention needed. If you have had a problem with a veneer falling off in the past, changing to a crown may be the next step. Financially, veneers are always seen purely cosmetic procedure with dental insurance, however crowns can achieve similar results, and if also addressing a dental need, will end up being the more affordable solution. The doctor will be able to discuss which procedure would work best for your specific needs,
Why Dental Veneers
 There is no reason to put up with gaps in your teeth or with teeth that are stained, discolored, badly shaped, chipped, or crooked. Today, a dental veneer placed on top of your teeth can correct nature's mistake or the results of an injury and help you have a beautiful smile. Porcelain veneers are a highly popular solution because of their lifelike tooth appearance.
My veneer looks bad!
We've had patients in the past come to us to "fix" veneers that have been done by a previous dentist and it's not always the dentist's fault, it also has a lot to do with the dental lab they're using. Was your veneer shipped to a lab overseas so that the cost for the dentist was minimum and the profit bigger? This is sad but true. Here at The Grapevine Dentist we use some of the best local dental labs and hold awfully close relationships with the lab tech that will be working on your case!
Final Tip:
Remember this is a cosmetic and permanent investment you may need to consider Invisalign and whitening prior to veneers to get the perfect smile you are seeking!